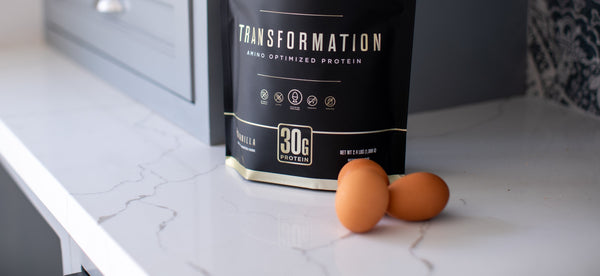 Egg White Protein vs Whey Protein
Is egg white protein powder better than whey protein powder? The answer might surprise you. Whey protein has been around for a very long time—in fact, it's one of the most abundant protein types on the market today. 
People commonly use whey protein powder as a supplement after a workout in order to build muscle mass. But here's the catch: whey protein is derived from dairy and it can create uncomfortable side effects, like gas and bloating. 
That's why more and more athletes and fitness trainers like Gunnar Peterson—trainer for the LA Lakers—are turning to egg white protein powder as an easily digestible, premium alternative. 
So is egg white protein powder better than whey? Let's look at how each is made and the muscle-building benefits they provide, and then decide. 
HOW ARE BOTH EGG WHITE AND WHEY PROTEIN MADE?  
Egg white protein is made by removing the yolk and dehydrating the remaining egg white into a fine powder.  With Transformation Protein, we add other nutrients to our egg white protein to pack more punch, including vitamins, minerals, collagen, plant-based protein, and MCT oil.
Whey protein, on the other hand, is made during the same process of producing cheese. Enzymes are added to milk to separate it into two types of proteins: Casein and whey. These are then pasteurized and powdered.   
DIGESTING EGG WHITE PROTEIN AND WHEY PROTEIN  
Digestion can be measured using the Protein Digestibility-Corrected Amino Acid Score (PDCAAS) created and used by the US FDA and the Food and Agricultural Organization. This method evaluates the quality of the protein, based on both the amino acid needs of humans and our ability to digest them.  
Egg white protein and whey protein both have the highest PDCAAS out of all the different types of protein powders on the market.  Egg white protein and whey protein are at the top for absorption and have the best amino acid profiles.   
The graph below shows the difference in macronutrients for egg white and whey proteins. As you can see, whey protein provides, on average, 10 more calories per serving than egg white protein. Whey also contains more fat and carbohydrates. 
If you have an allergy or sensitivity to dairy, then gas or bloating (or worse) can be a big issue for you when taking whey protein.  What's more? Since whey protein is so commonplace and inexpensive, you'll often find whey protein blends that contain harmful additives, fillers, and artificial sweeteners. The result? A bad experience all around. 
That's why it's so important to read the label—and make sure you're buying a high-quality protein powder, just to be safe.
| | | | | |
| --- | --- | --- | --- | --- |
|   | Calories  | Protein  | Fat  | Carbs  |
| Whey  | 120  | 25g  | 2g  | 3g  |
| Egg White  | 110  | 25g  | 0g  | 2g  |
Whey tends to absorb slightly faster than egg white protein into the body. But fast-absorbing does not necessarily deliver better outcomes; it can potentially lead to a spike in blood sugar, making you still feel cravings and hunger even after you've consumed your protein.  
BLOOD SUGAR AND WHEY
Lund University, in Sweden, conducted a study that evaluated the effects of whey on blood sugar levels.
To summarize the findings, they discovered that whey protein caused an increase in insulin (which controls blood sugar levels). A second study conducted by The University Of California at Davis in Sacramento found conflicting results. Whey has the potential to lower blood sugar in people with normal body weight and triglyceride levels. However, for those with obesity and elevated triglyceride levels, whey protein increased blood sugar.
The takeaway? Stay educated and choose the right protein for you, your body and your goals.  
WHY DAIRY-FREE IS THE FUTURE OF PROTEIN
The biggest highlight of egg white protein is that it is dairy-free!   
It's very common for people to have gas and bloating from whey and not make the connection. Gas and bloating is a sign that your protein powder is making you sick. This can inflame the gut and impair digestion. For recovery, digestion is critical. That's why choosing egg white protein as your protein of choice is a better bet if you have any dairy sensitivity.   
HOW PROTEIN HELPS WITH RECOVERY (ANY WHY EGG WHITE IS BEST) 
When you exercise, you create microscopic tears that rebuild during recovery. That sore feeling you get the next day? That's your body telling you it needs more protein.  
Without getting too deep into the science of it all, there are nine essential amino acids in protein that your body needs for post-workout recovery. After working out, your body needs amino acids to heal, build strength and grow lean muscle. They also help prevent injury.
Within essential amino acids, there are "branch chain amino acids" (BCAAs)—Leucine, Isoleucine, and Valine—that help most with recovery. Arguably, leucine is the most important of the three. 
Since you're putting in all that hard work at the gym to build muscle, make sure you select a protein powder that's amino-optimized like Transformation Protein. 
TRANSFORMATION PROTEIN POWDER WILL HELP YOU GET FIT LIKE A PRO 
So is egg white protein better than whey? The answer is yes. Egg white protein is dairy-free, contains fewer calories than whey protein, and doesn't lead to spikes in blood sugar.
Transformation Protein powder is created from a blend of egg white, plant and collagen proteins, and it contains absolutely no dairy or whey.  It's amino-optimized, with a focus on Leucine, to help you achieve your health and fitness goals.
HERE'S WHAT YOU GET WITH TRANSFORMATION PROTEIN 
A synergistic blend of egg white, plant and collagen proteins 

 

No artificial sweeteners, colors, dyes, or other harmful ingredients

 

30 grams of protein in every serving 

Amino-optimized for muscle recovery, focusing on Leucine. 

Added benefits like MCT oil for energy and metabolism

 

Vitamins and minerals like Magnesium Vitamin D3, and Chromium Picolinate to supports blood sugar management and ease inflammation

 

Probiotics and key digestive enzymes for protein absorption and improved digestion