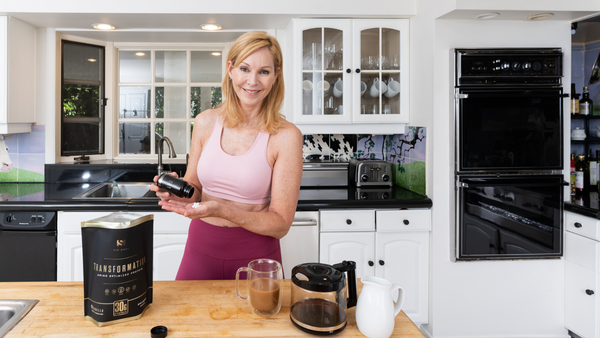 The Ultimate EGCG Supplement: CUT
What Is EGCG?
EGCG is also known as epigallocatechin gallate and is a type of catechin with natural antioxidant properties. It is commonly found in a variety of foods commonly found in teas and as an ingredient in supplements. Here are the most common sources:
Teas
Fruits

Cranberries, strawberries, blackberries, kiwis, cherries, pears, peaches, apples, & avocados

Nuts

Pecans, pistachios, and hazelnuts
While green tea has been considered to have healing properties since ancient times, its most abundant catechin, EGCG, has been more recently researched for its extensive cardiovascular and metabolic health benefits. Most EGCG supplements are sourced from green tea. although EGCG is well known for its antioxidant properties, it has a wide range of health benefits surrounding metabolism!  Combine this with other metabolism-boosting supplements like CUT. 
Benefits of EGCG
Thinking of skipping the daily cup of green tea and adding an EGCG supplement to your diet? Taking a supplement with EGCG has become widely prevalent. The primary catechin in green tea is epigallocatechin gallate which is the most researched and found to have the most health benefits. Here are the main EGCG benefits to consider: 
Supports weight loss. EGCG has been shown to help your body in the process of thermogenesis, which is how your body burns calories and produces heat. 
Good for heart health. Because it's an antioxidant, EGCG can help support heart health. Some studies have shown that people taking an EGCG supplement daily have had an easier time lowering their blood pressure and bad cholesterol. This helps the heart function normally and can reduce risk factors for heart disease.
Anti-inflammatory properties. EGCG acts as a natural anti-inflammatory agent. Stress increases your body's cortisol levels, which increase inflammation and can lead to weight gain in the long run.
May promote brain health. Because it is an antioxidant, EGCG, has been shown to protect brain cells from oxidative stress. By decreasing the likelihood of this damage, it can protect your brain from degenerative diseases like dementia, Alzheimer's and Parkinsons. 
Benefits exercise and recovery. Antioxidants, like EGCG, can reduce cellular damage and delay muscle fatigue. 
Source the Best EGCG Supplements for Maximum Results 
The key to getting the most from any supplement is sourcing high-quality supplements––and always being mindful to avoid artificial colors, fillers, and flavors. Finding an efficient EGCG supplement may also mean that you want a formula that is combined with other, high-quality supplements to keep your weight loss journey burning strong. A good EGCG supplement for weight loss may include ingredients like:
L-Carnitine: Ingredients to help you metabolize and burn fat more efficiently.
Capsimax: commonly found on your spice rack is also known as capsaicin. It's properties suppress your appetite by keeping you feeling fuller for longer. As well as increasing caloric burn with thermogenesis.
Guggal: Makes for lower cholesterol and aids in metabolizing fat.
Teacrine: Boosts energy and keeps you firing on all cylinders all day long. When you can get more out of your workouts, you can help improve your metabolism by building lean muscle mass.
Support Your Weight Loss Journey & Boost Your Metabolism with CUT  
Stimulating fat metabolism is an important part of transforming your body. It's hard to shred fat when your metabolism is sluggish and your energy is low. CUT is developed with EGCG from green tea, and L-Carnitine, a highly effective ingredient for weight optimization. This is one of the cleanest most effective supplements out there to get all the benefits of green tea EGCG and maximize your body's ability to lose unwanted pounds. Unlike caffeine that gives you jitters, CUT cuts gives you natural energy by maximizing the best antioxidants your body needs to give it the extra boost in the gym.
CUT supplement capsules are a fast and easy way to add high-quality EGCG to your diet. Taking it once daily can help boost your brain, heart and metabolic health. Ditch the endless cups of green tea, caffeine. Try CUT from Transformation Protein for weight loss management, or simply staying healthy.