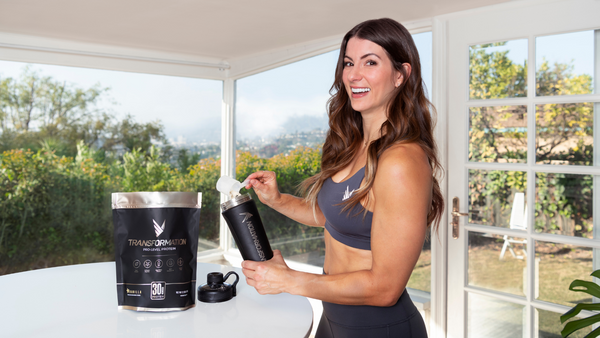 How To Jump Start Your New Year's Health and Fitness Goals: Competitive Fitness Challenge with Top Trainer
Transformation Protein Announces New Head Transformation Coach, Jen Widerstrom; Elite Trainer, Best Selling Author, and Weight-Loss Expert 
We're incredibly excited to welcome Jen Widerstrom, undefeated coach from NBC's The Biggest Loser, and Fitness Director of Shape Magazine to the Transformation Team this month. She'll be by kicking off her new role as the Head Transformation Coach with a 60-Day Total Body Challenge that will be taking the Transformation Protein community to the next level. 
As a wellness industry leader, Jen Widerstrom brings a robust expertise to the highest quality nutritional supplement brand on the planet and our ability to help individuals achieve their fitness goals. Now she'll be bringing her advanced skillset to you by designing and coaching a challenge which will help shred the fat and tone lean muscle . The Transformation Total Body Challenge is limited to only 100 people and will launch January 5th, 2021.
PAIRING PROTEIN WITH THE ULTIMATE ROUTINE
Beyond being a workout legend, Jen Widerstrom is a passionate leader in the wellness industry who has successfully helped others reach their ultimate fitness goals. Her secret is looking at the whole picture––workouts, diet, and of course having the right attitude. The insights she brings to the Transformation Protein community will help fuel a life-changing mind body transformation, and guarantees the confidence and skills to take control of your health in 2021! 
"Working with high quality nutritional products is a nonnegotiable cornerstone of any successful transformation. These participants will be in the best position possible to achieve success because they are backed by the best protein supplements and coaching out there!" Widerstrom stated.
As current Fitness Director of SHAPE Magazine and former coach on The Biggest Loser, Jen is the perfect fit for launching Transformation Protein's first ever fitness challenge. She is also an esteemed go-to expert in the entertainment industry featured regularly on shows Dr. Oz, LIVE with Kelly and Ryan and The Doctors, a best selling diet and weight loss author, and is a daily get-fit motivator to people everywhere. Transformation Protein is excited to hone her skills in-house to bring our community an interactive experience for reaching your goals. 
THE RIGHT FORMULA TO HELP YOU REACH YOUR GOALS
In order to really meet your fitness goals, you'll need the right diet, the right exercises, and the right program to keep you focused and on track. The 30 gram/serving multi-protein superblend in Transformation Protein is made from plant, collagen and egg white proteins to help build lean muscle, encourage weight loss, and promote faster recovery. An ideal complement to any determined fitness regimen, the product is a natural fit for a challenge with the top celebrity trainer––structured as a 60-day workout and nutritional program with cash prizes for anyone serious about transforming their body.
Jen Widerstrom will be using Transformation Protein Powder, Super Greens, and CUT products to offer the best nutritional support to all those bold enough to participate in the upcoming fitness challenge. In order to guarantee success and maximize individual attention, this challenge will have limited participants. Learn more about how to enter here. 
READY FOR THE ULTIMATE 60-DAY CHALLENGE?
Transformation's 60-Day Body Challenge (Jan 5, 2021 through March 5, 2021) is not just another 'New Year' workout program. It is the first ever to offer participants access to an elite fitness trainer in an interactive way that is focused on the total package: weekly workouts designed exclusively by Jen plus a comprehensive nutrition plan crafted by experts and fueled by Transformation's multi-protein superblend. Jen and Transformation Protein are joining forces to support your fitness and weight loss goals.
Sign-up goes live this month HERE. Upon joining this challenge you'll have the chance to:
Win up to $3,000 in Cash Prizes

Access Live Sessions with Jen Widerstrom 

Gain a 60-Day Program ft. Nutritional & Workout Plan

Purchase a limited-edition Pro Level Protein & Supplement package from Transformation Protein