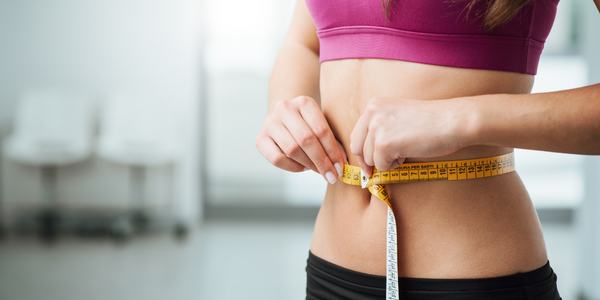 How to Lose 10 pounds in a Month
Today we are used to instant gratification, so it's no surprise that fewer and fewer people have the patience to wait for results. But when it comes to health and fitness, losing weight too quickly can be dangerous and temporary. If your goal is to lose 10 pounds in a month, it can happen safely with a combination of exercise and healthy eating. The formula to losing weight and keeping it off is taking care of yourself physically and emotionally while you're losing weight; consistency over time is key.
In simplest terms, weight loss involves moving more and eating healthy, but we all know there is much more to it. Sleep, water, alcohol, protein, and carbs also alter the equation in either positive or negative ways. In addition, each person's results will vary depending on age, sex, gender, and current physical condition. Following the "winning combination" of a healthy diet and routine exercise is the foundation for positive results. 
YOUR EXERCISE PLAN
Exercise Philosophy: While there's no true, one-size-fits-all workout to lose weight, there are certain exercises and movement formats that can provide a more efficient fat-burn than others. The best part? They're not complicated at all.
Cardio (running):

Depending on your current level of fitness, there is a running program for every level out there. If you're a beginner,

consider checking out a Couch-to-5K app

. If you've been running for a while already, check out programs that incorporate sprint intervals to raise your heart rate and increase calorie burn.
WORKOUT ROUTINE
Your workout routine also does not need to be complicated or involve hours in a gym. Losing weight  can be easily done in the comfort of your home, as long as you follow the right exercises and nourish your body accordingly. 
Our "Pro Workout Routines You Can Do At Home" resource provides a great starting point to losing weight fast.  Home workouts can be just as effective, if not more than your usual gym routine. Lean muscle is a result of workout out with lower weight and higher reps. So, whether you're working with 3-pound weights, or nothing at all, you're still going to be burning fat, building lean muscle, and on your way to losing 10 pounds in 30 days.
RULES FOR YOUR DIET
Exercise alone will not get you to your goal of losing 10 pounds in a month, however.
One key to focus on when working out and  building a nutrition program to shed pounds is protein. Current research studies found that those who are actively cutting calories should actually eat more protein.
High-protein diets can help with weight loss. Most people consume around 0.8 grams of protein per kilogram of body weight each day. That's about 51 grams of protein for someone who weighs 140 pounds (64 kilograms). Diets that contain between 1.2 and 1.6 grams of protein per kilogram of body weight can help support weight loss and reduce fat. Essentially, you can safely double your protein intake to help you lose weight.
When you cut calories and lose weight while working out, you will inevitably build lean muscle and replace fat. Maintaining your lean mass — or at least minimizing the amount you lose — promotes a higher resting energy expenditure (aka metabolism), which is crucial when you're trying to drop pounds and keep them off. After all, muscle burns more calories than fat.
All calories are not created equal though, so try to make healthy choices and get the most nutritional bang for your buck. If you're cutting calories to lose weight, you should be focused on getting enough protein and being more selective about where you're cutting those calories from.
THE HIGH-PROTEIN MEAL PLAN: RECIPES FOR LOSING 10 POUNDS IN ONE MONTH
Protein shakes are perfect for helping with weight loss and post-workout recovery.

To make this simple for you, we've crafted our own perfect high-protein, weight-loss meal plan that you can follow to lose 10 lbs in one month and included some awesome (and delicious!) protein shake recipes below.
Weight Loss Meal Plan

Protein Shake Recipes for Weight Loss
ORANGE CREAMSICLE
1 serving | Calories: 320 | Protein: 32 | Fat: 8 | Carbs: 30 | Fiber: 12 |Net Carbs: 18
INGREDIENTS
 1 serving Transformation protein powder

 Juice of 1 large orange

 Zest of 1 large orange

 1 cup of liquid (almond, cashew,coconut, etc.)

 1 tsp. flax seed

 Ice cubes as needed
PINEAPPLE MINT BLAST
1 Serving | Calories: 264 | Protein: 30| Fat: 4 | Carbs: 27| Fiber: 10 |Net Carbs: 17
INGREDIENTS
1 serving Transformation protein powder

1 large handful baby spinach

2 tsp. mint leaves

1/4 cup pineapple chunks

½ a lime, juiced

6 ice cubes
1 1/2 cup cold water
CHOCO NUT BUTTER SHAKE
1 serving | Calories: 301| Protein: 35 | Fat: 9 | Carbs: 20| Fiber: 11|Net Carbs: 9
INGREDIENTS
1 serving Transformation protein powder

 ½ cup dairy free yogurt

 ¼ cup gluten-free oatmeal

 1 Tbsp. nut-butter

1 tsp. cocoa powder

12 oz. water

6 ice cubes
Be sure to plan to consume your protein shake post-workout for recovery, managing cravings, and staying fuller longer.
Transformation Protein contains 30 grams of protein and just 210 calories per serving. It is a synergistic blend of egg white, plant and collagen proteins. It is 100% pure and natural with no dairy, no casein, no soy or whey. Transformation Protein's revolutionary formula also contains MCT oil for faster fat burning and increased energy along with magnesium, vitamin D3, and chromium picolinate to manage blood sugar and inflammation.

Optimize the efforts you put into your workouts by making Transformation Protein your protein of choice for post-workout recovery; start burning fat, losing weight and maintaining an overall healthy lifestyle with the best protein on the market.