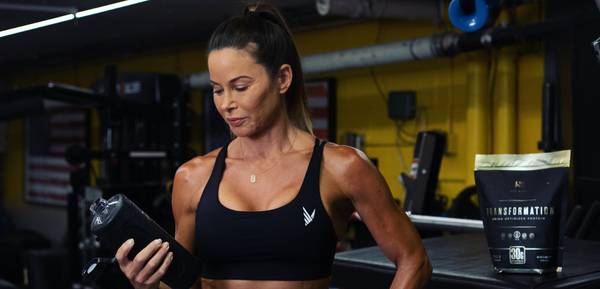 Meet Our Loyalty Program: Sweat Equity Rewards 
You kick ass in the gym and put effort into your nutrition. Now you can turn your passion for your fitness & wellness into real rewards when you enroll in our Sweat Equity Rewards Program. We see you working hard, which is why Transformation is taking the miles you put into your wellness and turning them into a new rewards currency with unrivaled perks. You can start earning up to 10% reward miles on every order and enjoy exclusive benefits with Transformation's Sweat Equity Rewards Program. Save big when you unlock free products with your miles, no products off limits.
Unlocking Your Rewards: How it Works
You have every reason to join the Sweat Equity Program. Whether you're a seasoned workout fan of our products or just getting started, joining is free and you'll receive 1,000 reward miles the second you sign up. Not to mention the chance for exclusive discounts, perks, and free swag. 
Here's how to get started:
Sign Up

Here

Earn Rewards Instantly

-

You'll receive reward miles when you create your account, follow us on social media and refer your friends.

Start earning up to 10% rewards miles on all your future purchases 
Retroactively receive reward miles from all your past purchases
Redeem miles as store credit for anything in our online store

Level Up -

reach milestones to unlock big reward miles bonuses and exclusive perks
Returning customer? You may already be a few levels ahead. Sign up now to find out! 
Not Just Another "Points" Program 
Because Transformation Protein is more than a brand––we're a fitness community that supports your goals and your health. Through 60-day fitness challenges and endless testimonials from our customers, we've seen what our highest quality supplements can do for you, which is why we want to continue inspiring YOU to keep working hard––and thank you with exceptional rewards. 
Get Endless Rewards:

receive up to 10% of your purchase dollars back in reward miles plus enjoy extra bonuses depending on your level

Climb the levels:

unlike other rewards programs, you have the chance to move up levels, unlocking new rewards and more spending power with every level you rise to 

Meet with our In-House Nutritionist

: one-on-one phone calls for personalized nutritional tips to help you achieve your goals.

Exclusive Gifts

: from swag to anniversary bonuses, you'll get so much more with every purchase

Early Access:

You'll have all new product drops and early access to all of our best deals and sales. Be treated like the VIP you are. 
LEVEL UP 
Think you have what it takes to take it to the next level? See how your levels stack up. Behind every purchase of our highest quality supplements there is the story of someone who cares about their body and wants to take their fitness and nutrition to the next level. We want to see just how many miles YOU can earn. That's why we're giving you the opportunity to show us what you got and reap the rewards. The Sweat Equity Program is all about turning your hard work into dollars you can re-invest in yourself.
| | | | |
| --- | --- | --- | --- |
| | Shopping Rewards  | Level Up Bonus | How To Qualify  |
| Level 1 | 4% Back  |   | FREE TO JOIN |
| Level 2 | 6% Back  | 500 MILES | SPEND $150 |
| Level 3 | 8% Back  | 1000 MILES | SPEND $300 |
| Level 4 | 10% Back  | 2000 MILES | SPEND $450 |
| Level 5 | 10% Back  | 2500 MILES | SPEND $600 |
| Level 6 | 10% Back | 3000 MILES | SPEND $800 |
| Level 7 | 10% Back | 5000 MILES | SPEND $1000 |
So Many Ways To Earn Miles 
Earning reward miles is easy and spending miles is easier. Every 100miles you earn gives you cash to use to shop and redeem your miles for store credit and exclusive perks. You train like a pro, so now it's time to earn like a pro. There's no reason you can't sign up and start earning miles today. This program was specifically designed to be the best rewards program out there. 
| | |
| --- | --- |
| Join The Program | 500 MILES | $5 |
| Refer A Friend | 1500 MILES | $15 |
| Follow Us On Instagram  | 300 MILES | $3 |
| Like on Facebook | 300 MILES | $3 |
| Share on Facebook | 500 MILES | $5 |
| Birthday Gift | 1000 MILES | $10 |
Converting your miles into amazing rewards is as easy as earning them! Simply pick the reward you want from the list, instantly spend your miles on it and receive a unique promo code that you can use on your next purchase on Transformation Store.
Redeem store credit for any amount (100 miles = $1)!
Redeem directly for free products and save big!
Stop Waiting and Start Earning. Sign Up NOW →