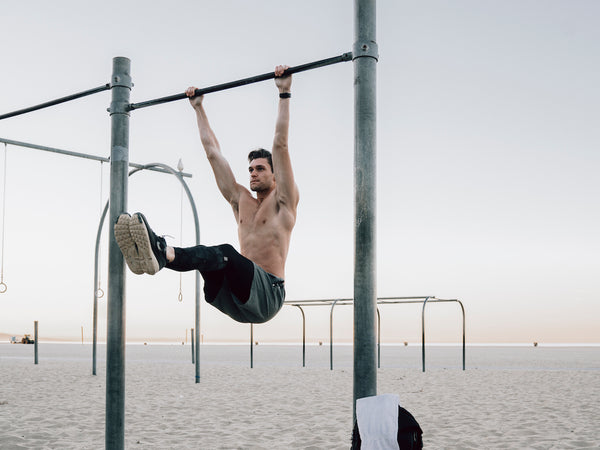 The 411 On Compound Exercises and Compound Movements
What Are Compound Exercises?
Compound exercises are those that work multiple muscle groups at the same time. When you think about what are compound exercises, a good example would be a squat––an compound that works the quadriceps, glutes, and calves. One reason you should focus on compound exercises is that they have the ability to train multiple muscle groups at one time. These are focused on functional fitness and make for great cross-training workouts. They promote a wide range of motion with multi-joint movements, unlike isolation training.
Compound movements are different from isolation exercises. Isolation exercises only work a group of muscles at one time. Doing isolation exercises are good for targeting weak or underdeveloped muscles/joints specifically. Unfortunately, this leaves them to have less of an impact on your body as a whole. Isolation exercises are definitely ideal for recovery or if you are wanting to bulk up one specific area like your glutes.
The Game-Changing Benefits of Compound Exercises
There are so many benefits of adding compound movements to your routine in order to achieve your fitness goals. Compound movements work more muscles at once & can save you time, leaving long hours at the gym or dependence on certain machines a thing of the past. You get more done in less time because you can push through compound exercises as a substitute for multiple isolation sets. There is also less equipment needed for the compound exercises since isolation exercises generally require more specified machines at the gym to really target the niche areas you may be looking to focus on your body.
Compound exercises are more practical. They prepare your body and help build real-world strength. Our bodies use compound exercises like lifting to do every day things.  They engage more muscle simultaneously, which means more calorie burn thanks to an increased amount of work being done by multiple muscle groups.
10 of the Best Compound Movements for Max Gains
It can help simplify and shorten your workouts by introducing more or all compound movements. They don't need to be difficult. When doing a compound set its important to make sure you are using the correct form and building up your reps over time. Because they work so many muscle groups at once you do not need to max out. Try incorporating these compound sets into your workouts.
1. Incline Bench Press with Dumbbells
A great way to target different muscle groups! Incline bench press workouts offer ideal compound dumbbell exercises with a few variations to really shred your arms, back and pecks.
Variations

Angle variation (between 30° and 45°)

Progressive overload

Shortened range of motion (i.e.

pulsing

)

Muscle groups activated

Equipment Required: 
2. Push-Ups
Push-ups are the tried and true exercise that offer many variations. Best of all? They require no equipment. The different positions they target make for perfect  compound shoulder exercises. Push ups are the ultimate way to get shredded pecs.
Decline

Staggered

Wall

Shoulder tap

With leg raise

Muscle groups activated

Chest

Delts

Triceps

Abs

Serratus anterior 

Equipment Optional:

Ankle weights

Weighted vest
3. Overhead Press
Doing an overhead press is how to get the best compound shoulder exercises. They also can count towards compound arm exercises.
Seated

Dumbbell

Barbell

Push press

Arnold

Muscle groups

activated

Traps

Delts

Pecs

Triceps

Core/lower back

Glutes

Hip flexors

Equipment Required:

Barbell w/weights

Dumbbells
4. Pull-Ups
Doing pull ups can be easily to done at home with an inexpensive pull-up bar you can install in a door frame. There are also machines that can provide you with a moveable platform, making it easier. These are highly recommended as a compound bicep exercise.
Variations

Wide grip

Chin-up

Around the world

Muscle groups activated

Lats

Delts

Traps

Biceps

Core

Equipment Required / Optional:

Pull up bar

Resistance bands

Ankle weights
5. Bent Dumbbell Row
The different ways you can do a bent dumbbell row make them the perfect option for a compound set. These compound dumbbell exercises work your traps, lats, pec, and more.
Variations

In lunge position

Single arm

Barbell

Muscle groups activated

Traps

Infraspinatus

Rhomboids

Lats

Pecs

Upper arms

Shoulders

Equipment Required:

Dumbbells

Barbell w/weights
6. Squats
Moving on the lower half, squats are great as compound glute exercises. Squats have been the best ways to do active rest sets, static moments with weights, and even get in some cardio. They are also a great bodyweight exercise.
Variations

Pulse squat

Weighted squat

Squat jumps

Lateral squat

Bulgarian split squat

Muscle groups activated

Quads

Lower back

Core

Glutes

Hamstrings

Hip flexors

Equipment Optional:

Dumbbells

Weighted barbell

Bench or box (for split squats)
7. Loaded Carry
When thinking of how to do a loaded carry, you probably never considered that these would make for such a great compound arm exercises. Use only a few variations, you can target your core and back. This is also a great exercise to do that actually requires very little equipment, and you can even use some stuff around the house.
Variations

Yoke

Farmer's walk

Suitcase (i.e., single arm)

Overhead

Zercher

Muscle groups activated

Hands (grip strength)

Back

Core (for stabilization)

Arms

Legs

Equipment Required:

Barbell w/weights

Dumbbell

Kettlebell
8. Deadlifts
Deadlifts don't require any equipment and you can really do them anywhere. Included in your daily routines, these compound glute exercises are perfect for lifting your behind and strengthening your lower back.
Variations

Sumo

Pause

Single leg

Banded

Hamstrings

Lower back

Core

Glutes

Hip flexors

Equipment Required:

Dumbbells

Kettlebells

Barbell + weights

Resistance bands
9. Tricep Dips
To do a tricep dip correctly, you need to make sure that your arms are at the right angle and lined up with your shoulders. For these compound arm exercises doing you don't need much more than a coffee table or a sturdy bench. This is one of the best bodyweight exercises you can do, and with only a few variations, they can ensure that your arms look great.
Variations

Bent legs

Straight legs

Raised legs

Parallel bar w/weights

W/added leg raise at peak

Muscle groups activated

Triceps

Pecs

Traps

Serratus anterior

Equipment Used:

Chair/box/bench

Resistance bands

Parallel bars

Ankle weights
10. Lunges
For compound glute exercises, lunges are ones that you can use a lot of variations on to achieve the look you want. The benefits of compound exercise are that this will work your whole lower half, including your back! From your quads to your hamstrings, all the way down to your quads, there are many variations that you can use to target your lower body.
Variations

Reverse

Lateral

Curtsy

Walking

Weighted

Banded

Muscle groups activated

Quads

Glutes

Hamstrings

Calves

Abs

Obliques

Multifidus

Erector spinae

Equipment Optional:

Dumbbells

Resistance bands
Support Your Compound Exercises with Complete Nutrition
A well-rounded exercise routine will have both compound and isolation movements, however, adding compound movements is a must if you want to really level up your strength and muscle mass gains. Compound movements have a wide range of benefits that can help you achieve all your fitness goals.
A few key benefits are that you can work out many different sections of your body at once. Fortunately, compound movements don't necessarily mean complicated. In fact, for many of these exercises, you can actually do it easily from your home without any special equipment.
But no fitness routine can be effective if you're not supporting muscle recovery with complete nutrition. To really make gains, you need to support your muscle recovery with the right kind of protein. This will ensure you are feeding your muscles and helping create the lean look we're all after.