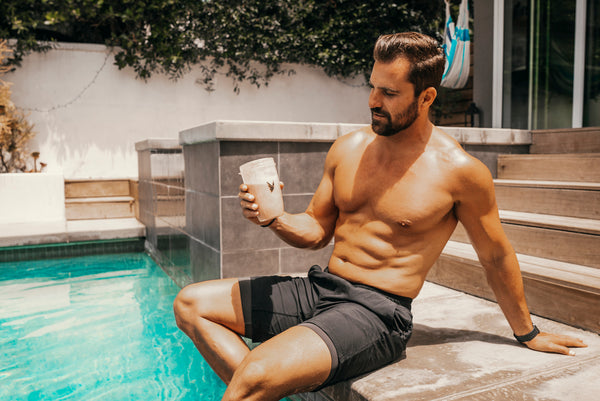 The Tastiest Non-Dairy Protein Shakes According to the Pros
What Is Dairy-Free Protein?
You would be surprised just how many protein brands out there have dairy as part of their make-up. This is because many protein powders rely on whey or casein, two main dairy ingredients that offer lots of protein. Protein isolate is a byproduct of cheese making.  This means they also contain lactose.
Dairy-free proteins are those that are not derived from the milk of lactating animals such as cows, sheep, goats, or buffalo. A no milk protein powder is usually made up of various plant proteins. Some brands also include non-dairy animal-based ingredients like egg white protein to ensure that it's a complete protein. All protein powders that are vegan are also dairy-free and free from animal products. However, because vegan proteins are completely plant-based they are not always a complete protein. When it comes to protein drinks not milk-based, protein can be derived from several sources such as brown rice, pea, soy, hemp.
Benefits of Dairy-Free Protein
Some key health benefits actually often come along with choosing a dairy-free protein powder. The first main one is that you don't have to digest the lactose. Dairy-free proteins are inherently lactose-free. Lactose has come to be linked with far more than just lactose intolerance, it also contains sugar that bad bacteria in your gut like to feast on. This can lead to an imbalance in your gut and ultimately mean more bloating, indigestion weakened immune system, and more.
There are many benefits of going dairy-free. Some dairy-based products have also been shown to increase inflammation in the body. This may contribute to health conditions from cancer to acne. When you avoid lactose, you can avoid all the problems that may come with it. No need to digest lactose. When it comes to a whey protein substitute for lactose intolerant, there are plenty of options. Both plant and egg white protein supplements can offer a full days' servings of protein without needing to dip into dairy.
5 Tasty Protein Shake Recipes
Luckily there are lots of delicious ways to make dairy free protein powder be delicious. Do your body a favor and make gluten free and dairy free protein powder part of your everyday. Your protein shake recipes don't need to be so vanilla. Spice things up a little with these easy-to-make recipes.
1. Cold Brew Blast Coffee Protein Shake
Power through your morning with an energy boost from coffee plus protein. No matter what your age, gender, or dietary guidelines you follow, almost everyone knows that coffee adds to any breakfast smoothie recipe! Making your cafe mocha a coffee protein shake in the am could do more than just boost your energy, it could also boast health benefits.
Ingredients

Coffee

Protein

MCT oil

Cordyceps

Stevia (optional)

Directions

Add liquids, then powders to a blender and blend till emulsified

Optional: add ice for a warm-weather treat
Skip dessert, but still get in something delicious! Packed full of antioxidants, this is a great shake for post-workout. Adding protein powder to your drink helps rebuild muscle after tough workouts. Plus it can be a great way to sneak in some extra fruits and veggies!
Ingredients

Vanilla protein

Super greens

Pineapple (frozen or fresh)

Strawberries (frozen or fresh)

Coconut water/milk or plain water

Ice

Directions

Add liquids, then powders to blender and blend till emulsified
The addition of nut butter make this a protein-packed all-star smoothie for quicker recovery and bulking up. There are actually over 50g total protein in just one shake if you use this recipe. Plus you get a boost of healthy fats from nut butter. Added fiber from oats will keep you feeling fuller for longer.
Ingredients

Chocolate protein

Banana

Cocoa powder

Peanut butter (or PB2/nut butter alternative of your choice)

Coconut milk

Quick oats

Directions

Add liquids, then powders to blender and blend till emulsified

Optional: add ice for a warm weather treat
A tasty bulking shake alternative to the classic peanut butter and chocolate flavor. You won't miss out on omega-3s or fiber with this recipe. Flax seeds give a nutrient boost so that you're getting your daily dose of the essential nutrients. Additionally, cottage cheese boosts protein content for 51g total of protein in one serving.
Ingredients

Vanilla protein

Strawberries

Cottage cheese

Flax seeds

Graham cracker

Sub granola for gluten-free

Oat milk

Directions

Add liquids, then powders to blender and blend till emulsified

Optional: add ice for a warm weather treat
This delicious recipe is favored by every gym addict who's focused on performance in addition to gains. The addition of bananas gives potassium to help prevent water weight gain by keeping your electrolytes in balance. Nut butter offers boost of protein for 40g protein total. In terms of protein shakes for lactose intolerant, this avoids all dairy and you can choose whichever plant-based milk you prefer.
Ingredients

Vanilla protein

Banana

Peanut butter

Or nut butter alternative/PB2

Plant-based milk like almond, soy, or oat

Directions

Add liquids, then powders to a blender and blend till emulsified

Optional: add ice for a warm weather treat
Get the Clean Protein You Need for Delicious Non-Dairy Protein Shakes
Dairy-free protein is becoming easier to find thanks to advances in protein science. But you should be diligent about reading your labels to check for a few details. Here are a few things to double-check:
Make sure the ingredients are clean and safe

I.e. organic, no fillers, sourced from reputable locations

Make sure it's a complete protein

Adding in egg white protein powder ensures that you get all the EAAs and BCAAs you need daily
Dairy-free proteins come with many health benefits, like avoiding lactose, keeping up your protein intake, and getting in the lean protein that your body needs without the extra sugar or carbs. But don't trust just any "dairy-free" label. You want to make sure that you are drinking the right kind of protein with a complete amino acid profile.