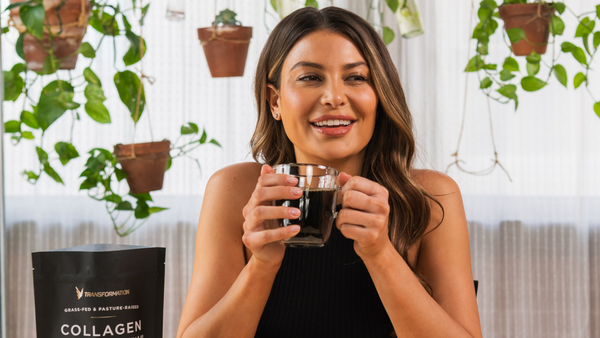 5 Collagen Benefits You May Not Have Known About
What Is Collagen?
Meet the supplement that is everywhere. If you're becoming more aware of the supplements you should be taking daily, you've probably come across Collagen. Collagen is one of the primary building blocks of our joints, bones, muscles and skin. It is the most common protein in the human body. There are 28 different types of collagen––with types I, II, III, IV, and V are the most common in humans. Each type of collagen is found in different places in the body; organs/skin have types I and III, and joints/cartilage have type II.
As we age, collagen production slows. When collagen protein declines it can lead to loss of skin elasticity, joint pain, and loss of bone density and muscle mass. 
This is why many people turn to collagen powder, collagen supplements, collagen supplements, and collagen peptides. The body uses collagen in multiple ways. It reinforces muscles and provides structure, elasticity and hydration to skin. Collagen supplements have grown in popularity to help fight the signs of aging in the body. 
New advances in synthesizing collagen production have led to new forms of collagen supplements. The hydrolization process is the method by which collagen peptides are made. Hydrolyzed collagen is easier for your body to break down and turn into usable collagen. How much collagen you need daily depends on what form of collagen you choose: 
Hydrolyzed

Undenatured

Gelatin
You should always check the nutrition label for dosing information and consult your physician for recommendations. 
Five Surprising Benefits About Collagen
Improved Skin Elasticity. As we age, our bodies produce less collagen which ends up leading to dry skin, and ultimately the formation of wrinkles. Boosting your collagen intake can help your body get back to the levels of youth, improving skin elasticity and health.
Stronger Bones. Collagen is the primary protein that make up our bones. Being deficient in collagen can lead to bone loss and a decrease in overall bone density. Some studies suggest that combining collagen and calcium supplements can improve bone density and delay the onset of osteoporosis. 
Reduced Joint Pain. Collagen may address two main contributing factors to chronic joint pain––inflammation and cartilage breakdown. 
Inflammation:

Joint pain can be the result of inflammation in the body, whether due to injury, poor diet, or general aging. This increase in swelling evolves into discomfort, pain and loss of mobility. Collagen supplements have been shown to help reduce inflammation. 
Cartilage Breakdown: Collagen helps maintain your cartilage––best described as the rubber-like tissue that protects your joints. Collagen supplements might help stimulate your tissues to produce new collagen and cartilage, thus reversing the breakdown of existing cartilage. 
Increased Muscle Mass. Up to 10% of our muscles are made up of collagen and as we age it is the primary thing that contributes to our decline in strength and muscle mass. Some studies suggest that collagen, when taken as a supplement, can help muscle protein synthesis. Collagen can work in tandem with other health supplements that contribute to muscle creation, like creatine
Boost Heart Health. Like other muscle structures, collagen helps reinforce your arteries and blood flow to the heart. As age sets in genetic predispositions to heart issues or unhealthy diet, lack of cardio exercises, and increased cholesterol all threaten heart health. A collagen deficit can lead to weakened arteries, leading to an increased risk of stroke or even a heart attack. Adding in collagen supplements to your diet can decrease artery stiffness and may also contribute to an increase of HDL (i.e., "good") cholesterol. 

Several foods contain collagen, like animal proteins, which helps your body replenish what you lost to keep you healthy as you age. However, its absorption is not as efficient as hydrolyzed collagen like that in collagen powders or collagen supplements. As we age our bodies need consistent doses of collagen to maintain. When taken daily, collagen peptides can help maintain radiant hair nails and skin as well as aid in joint and bone health. Transformations's Collagen peptides is a multi-collagen blend we recommend adding into your daily supplement routine to reap all the collagen benefits.