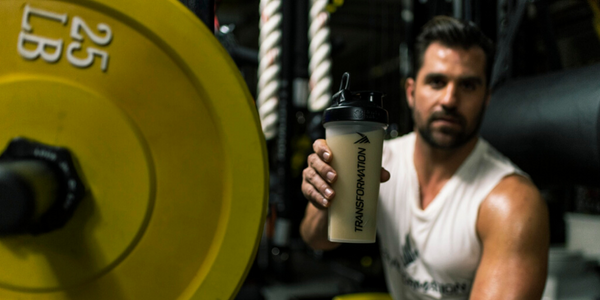 How to Make the Transformation Protein Keto Shake
If you're following the typical ketogenic diet, you are most likely putting a lot of thought into how you consume your 25 to 35 net carbs each day. Regardless of your goal, whether you're looking to lose weight or simply have a healthier lifestyle, the ketogenic diet is a great way to do it. While you may sometimes choose to meet your protein needs through your diet, protein powders offer a convenient and easy way to supplement your intake.
WHAT MAKES A PROTEIN POWDER KETO-FRIENDLY? 
The key to choosing a keto-friendly protein powder is to search for one high in protein, and low in carbs, to fuel the body and repair sore muscles.
Keto-friendly protein powders typically contain ingredients seen below as the base of their protein. A sure sign of a protein that is perfect for keto is that it's low calorie. 
Egg White Protein 

Collagen Protein 

Pea Protein 

Rice Protein

Whey (dairy) Protein

Casein (dairy) Protein

Egg Protein

Soy Protein
The goal is to aim for a keto-friendly protein that contains less than 250 calories per serving. The best proteins for keto, like one scoop of Transformation Protein, can deliver 15 grams of protein with less than 105 calories and a net carb of only 4.5 grams.
Ingredients to avoid in a keto-friendly protein shake include: 
Grains

Fruits

Vegetables that grow below the ground (potatoes, yams, corn)

Legumes (beans, etc.)  
Half a scoop of Transformation Protein delivers a low-carb and a low-calorie protein powder solution with all nine essential amino acids and a synergistic blend of plant, egg white, and collagen proteins. It is 100% pure and natural with no dairy, no casein, no soy or whey (so no whey-induced stomach issues).
THE MOST POWERFUL KETO-FRIENDLY FOODS   
The basis of any ketogenic diet is healthy fats, making up 70–80% of your daily calories. Fats will help you go low carb with ease because they help keep you feeling full, curb cravings and keep your blood sugar and energy sustained. Combined with high quality protein, low carb veggies, nuts and seeds, you have the perfect recipe for a powerful keto-friendly diet. 
Some of the best keto foods include
Eggs

Avocados 

Coconut 

Greek Yogurt

Almonds

Chia Seeds
High-quality protein, such as meat and poultry, do not contain carbs and are rich in protein and several nutrients. Grass-fed meat is the healthiest choice. Eggs can also be a low carb source of protein with just 1 gram of carbs per egg.
Nuts and seeds are healthy, high-fat and low-carb foods. Here are the carb counts for 1 ounce (28 grams) of some popular nuts and seeds.
Almonds: 3 grams net carbs; 6 grams total carbs

Cashews: 8 grams net carbs; 9 grams total carbs

Macadamia nuts: 2 grams net carbs; 4 grams total carbs

Pecans: 1 gram net carbs; 4 grams total carbs

Pistachios: 5 grams net carbs; 8 grams total carbs

Walnuts: 2 grams net carbs; 4 grams total carbs

Chia seeds: 1 gram net carbs; 12 grams total carbs

Flaxseeds: 0 grams net carbs; 8 grams total carbs
These foods are all perfect for meals or snacking, but finding the perfect combination for enjoyment can be tricky, which is where quality egg white protein shake supplements can help. 
POWERFUL KETO FOODS TO INCLUDE WITH YOUR PROTEIN SHAKE
There are some great ways to incorporate "powerful" keto-friendly foods into a delicious protein shake using keto-friendly protein powders. 
To maximize your keto results, be sure to do your research on protein powders. A higher-quality protein powder such as Transformation Protein ensures you are not going over your macro limit or carb limit for the day. Other benefits are that Transformation Protein powder uses egg white protein, plant-based proteins, and bioactive collagen peptides, making it dairy-free, and it contains fewer calories than whey protein and doesn't lead to spikes in blood sugar or digestion issues.
THE TRANSFORMATION PROTEIN KETO SHAKE
Half a scoop of Transformation Protein is keto-friendly and includes several of all the "best" proteins in its blend and under 105 calories.
Its vanilla flavor is perfect for combining with almost any shake recipe - it actually increases flavor due to its great taste. 
When comparing Transformation Protein's egg white-based blend with the commonly used whey-based product, the benefits are clear. Egg white protein is made by removing the yolk and dehydrating the remaining egg white into a fine powder.  With Transformation Protein, we add other nutrients to our egg white protein to pack more punch, including vitamins, minerals, collagen, plant-based protein, and MCT oil.
Whey protein, on the other hand, is made during the same process of producing cheese. Enzymes are added to milk to separate it into two types of proteins: Casein and whey. These are then pasteurized and powdered.  
Read labels and look for the best product for maximum results.
Transformation Protein offers
A synergistic blend of egg white, plant and collagen proteins   

No artificial sweeteners, colors, dyes, or other harmful ingredients  

15 grams of protein in every serving 

Amino-optimized for muscle recovery, focusing on Leucine. 

Added benefits like MCT oil for energy and metabolism  

Vitamins and minerals like Magnesium Vitamin D3, and Chromium Picolinate to support blood sugar management and ease inflammation  

Probiotics and key digestive enzymes for protein absorption and improved digestion 
Tasty Protein Shake Recipes
Chocolate Keto Protein Shake
1/2 scoop, keto-friendly protein powder, like Transformation Protein
1 ½ cups. almond milk
2 tbsp. almond butter
1 tbsp. unsweetened cocoa powder
1 tbsp. chia seeds, plus more for serving
2 tbsp. hemp seeds, plus more for serving
1/2 tbsp. pure vanilla extract 
Pinch kosher salt
Heavy whipping cream will also really thicken up the shake and add great flavor and a source of fat
Almond Milk Avocado
1 Scoop keto-friendly protein powder, like Transformation Protein
1 1/2 cups Almond Breeze Original Almond Milk 
1 large Avocado
1 tbsp. chia seeds, plus more for serving
2 tbsp. hemp seeds, plus more for serving
Heavy whipping cream will also really thicken up the shake and add great flavor and a source of fat 

Check out other healthy protein shake recipes here. Not all on the list are keto-friendly, but they are great to build ideas from and gather inspiration for ingredients.