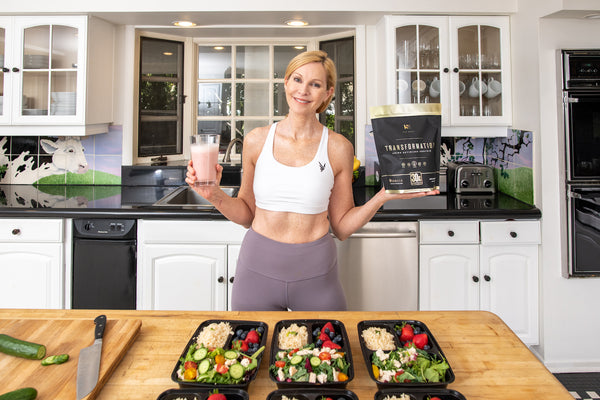 The Easiest High-Protein Meal Plan to Follow (21 Recipes)
Why Does Your Body Need Protein?
Are you sure you are getting enough protein? If you feel like day after day you have low energy, aren't full after a meal, and don't have the focus you need to get through the day, you may not be getting enough protein in your diet.
According to the Dietary Reference Intake report for macronutrients, the recommended amount of protein for the average sedentary adult is 56 grams/day for men and 46 grams/day for women. That's just a baseline for those with less active lifestyles. So that means making sure that you are consuming at least a few servings of lean protein every single day. Protein has a few different functions in your body:
Repair & Recovery -

Protein is the essential material building block of your muscles, bones, skin, and hair. You break down the proteins in your muscles when you work out. Replenishing what you may have lost though your diet is key to repairing your muscles.

Hormone Communication & Balance -

Messenger proteins send communications between your organs. so that they all stay in sync.

Enzymatic Balance -

Thousands of chemical reactions in your body are fueled by enzyme proteins.

Oxygen & Energy Delivery -

Because hemoglobin is a protein that helps carry oxygen to your body's cells, good oxygen is a must for energy levels during the day and throughout your workouts.
Benefits of a High-Protein Diet
Not all protein is the same, and it's important to make sure that you are consuming healthy, lean protein. High protein meals help keep you feeling fuller for longer, which can help with weight loss. They also can help boost your resting metabolic rate. These types of diets help you build and retain lean muscle mass, which is one easy way to help keep your metabolism healthy. High protein diets support your ability to have a successful fitness routine. So if you shred your abs during yesterday's core workout, the boost of protein helps you lose fat while preserving your muscle gains. 
Some high protein foods are also rich in leucine. The BCAA (branched-chain amino acids) is essential for the growth and repair of muscles, skin, and bones. Here are some examples of great Leucine-rich proteins to eat:
Chicken

Beef

Pork

Tuna

Tofu

Beans

Dairy (milk/cheese)

Eggs
7-Day High Protein Meal Plan
To make it easy, we're giving you the tips for a 7-day high protein meal plan featuring 21 recipes (3/day).
 Day One
Breakfast

Greek yogurt parfait, lean breakfast sausage, and whole-wheat toast, plus a

protein iced latte

Lunch

Turkey BLT salad with homemade trail mix

Dinner
Day Two
Breakfast

Black bean omelet with fresh pico de gallo and avocado

Bonus points for a

vegetarian option

- try adding in extra peppers, onions and tomatoes.

Lunch

Dinner

Chicken burger with sun dried tomato aioli, oven-baked sweet potato fries
Day Three
Breakfast

Blueberry, yogurt &

ricotta "pancakes"

Simply add greek yogurt and ricotta to your pancake mix to beef up the protein content

Lunch

Dinner

Chicken fried cauliflower rice

Sub regular rice for brown, purple, or cauliflower rice for a healthy, low-carb substitute
Day Four
Breakfast

Crustless mini quiches - an easy thing to make or freeze! 

Mix eggs and buffalo chicken bits and cook in muffin tins

Lunch

Dinner

Maple mustard grilled chicken kabobs
Day Five
Breakfast

Lunch

Chipotle shrimp quesadilla - add any sea food to this corn tortilla option to keep it low carbs 

Dinner

20-minute skillet chicken fajitas
Day Six
Breakfast

Breakfast burrito with whole wheat wrap

Eggs, meat of your choice (chicken, lean sausage, chorizo), avocado, salsa, sour cream

Lunch

Dinner

Shrimp tacos with fresh corn salsa
Day Seven
Breakfast

Lunch

Spiced chickpea and broccoli wrap

Dinner

Sheet pan tofu with asparagus and crispy chickpeas
Get the High-Quality Protein Your Body Needs
As with any diet, quality is key. And keeping an eye on quantity is also important. Your body needs protein to keep you looking, feeling, and performing your best. Of course, when starting any new meal plan you'll want to consult your doctor or nutritionist. Following a high-protein diet like this simple 7-day meal plan can help give you more energy throughout the day, make weight loss easy, and build lean muscle. 
Transformation Protein powder is packed with all nine amino acids your body needs. It is one of the few that is dairy-free and contains only natural sweeteners to help you get the results you want. Once you know the correct amount of daily protein intake for you and you're taking the best supplements, it should be easier than ever before to hit your goals.