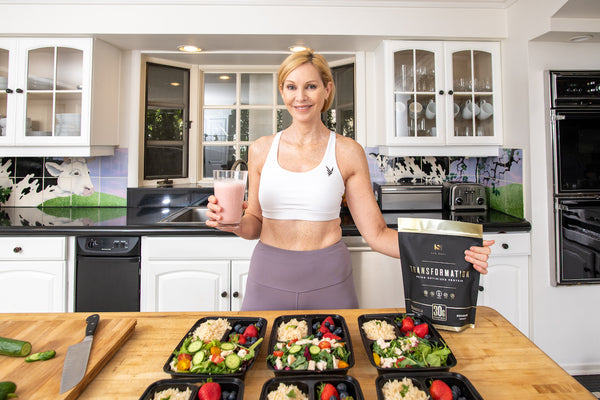 10 Healthy High Protein Meals
How to Use High-Protein Meals to Boost Your Health & Fitness
Giving your health and fitness an overhaul is easier than you may think. Fitting in protein is the essential macronutrient you should not be missing. To put it simply, it's the one thing that most people aren't getting enough of and that can actually help keep you looking, feeling, and performing your best.
Why is protein important? Here are some at-a-glance perks of the benefits of high protein diet:
Supports healthy muscle development & maintenance

Speeds recovery 

Moderates appetite, promoting weight loss

Adds to healthy bones

Helps boost your metabolism

May help lower blood pressure and reduce LDL cholesterol
Many people wonder, does protein fill you up? And does protein help you build muscle? The short answer is yes. That's because our muscles need protein to help them rebuild. Having a high protein snack or shake post workout is a great way to rebuild your muscles.
10 of The Best Healthy, High Protein Meals
Delicious, high-protein meals don't need to be complicated or time-consuming. Instead, there are easy recipes that you can find that offer a hefty dose of protein plus other essential nutrition for your body. Added bonus? You can make them ahead of time. Why you should eat more protein really lies in the function of protein and how much it gives back to your body. As we get older we need to be especially cognizant of nourishing our brains, bones, and muscles with the right kinds of macronutrients.
These recipes will help you to meet your protein needs for the day, plus help fill you up in the right way. There are plenty of science-backed reasons to eat more protein, and a great way to stay on top of it is having go-to tasty treats and meals to lean on.
1. Protein-Packed Waffles
While you can usually get these in the freezer section at your grocery store, making them from scratch is easy and ultimately much better for you since you can avoid all the sugar and additives that may be in store bought brands. Using the added power of plant protein powder is what's key in this batter! 
Follow this link to make this easy recipe! 
2. Chicken Parm with Sweet Potato Fries
This baked-not-fried version of the recipe makes it much healthier than the traditional versions. Not only is chicken high in protein, but it's also a lean option. Utilizing sweet potatoes as a side are a more nutritious option to pair with than regular potatoes would.
Click this link to make this delicious recipe!
3. Power Protein Cinnamon Coco Snack Balls
Protein keeps you full longer, and this recipe is the perfect on-the-go recipe to sneak protein in. Easily made, they can go straight into the freezer and will keep for up to 3 months. Just grab and go for a post-workout fix, tasty snack or to top off a meal with a filling desert.
Follow this link to make the recipe!
4. Smoky BBQ Steak & Corn Salad
This recipe packs all the flavors with BBQ sauce and a corn salad to offer the perfect sweet pairing. A great way to impress friends with a healthy option while entertaining. Steak is a great source of protein and you can get leaner cuts of meat to avoid unwanted fat.
Read more about how to make this recipe at your next dinner party!
5. Protein Chia Pudding 
This could easily become your new breakfast or desert go-to. Chia seeds are already high in protein and fiber, but adding protein powder to this easy recipe can also help you meet your daily needs. They also expand and become creamy so that the texture of this will easily remind you of pudding––but without the calories! 
Use chocolate or vanilla protein powder to make this recipe.
6. Spicy Cayenne Chicken Kabobs with Black Bean Salsa
Chicken is a great lean protein go-to, checking all the boxes for the benefits of high protein diet. We love this recipe because it's filled with extra legume proteins (black beans). Cayenne pepper gives it a pop of flavor and helps this dish stand on its own.
Make this recipe for yourself tonight! 
7. Sweet & Salty Protein Crunchola
Another snack to end all snacks! Its important to snack healthy and this recipe will help you get there. It packs over 30gs of protein and is an ideal breakfast, lunch or anytime option. Mixing it with yogurt and berries can make it even more filling and tasty. Also swap in or out any nuts/seeds you want and add your favorite non dairy protein powder to make it yours!
Learn how to do this recipe yourself!
8. Seasoned Swordfish with Corn & Avocado Salsa
As a gamier fish, swordfish stands on its own. This recipe uses a spiced rub to make a tasty take on a seafood favorite. Fresh avocado is a must for the salsa, which tops the fish to give it a tangy juxtaposition. Finish off with a fresh-squeezed lime and a side salad for a well-rounded meal! 
Use this recipe to make your simple swordfish.
9. Good Mornings Coffee Collagen Shake
This is one of the best ways to wake up! This is so much more than your everyday coffee! If you want to use plant protein for weight loss, this is one of the best low-calorie options. Easy and under 5mins, this can really give you what you need to start your day!

Make this coffee to start your day!
10. Fan-Fave Protein Froyo
Try this yummy and guilt-free alternative to ice cream. This recipe is great when you're craving a late-night snack or dessert. If you're craving chocolate, using an organic protein powder protein that is chocolate flavored is also a great option to switch it up. No ice cream maker is needed for this recipe.
Try this delicious froyo to get in your protein servings.
Keep Your Body Looking & Feeling Its Best with High-Powered, Clean Protein
There are many benefits to filling your diet with high-protein meals. High protein intake may boost your metabolism, meaning you burn more calories throughout the day. Many people don't realize that they are not getting enough protein in a day. Using fun recipes that allows you to make things ahead of time helps you having an easy way to incorporate it into your diet everyday.
Not able to eat fish, egg whites, meat and chicken with every meal? No problem. Many people opt for protein powder supplements to make sure they are getting everything they need. Supplementing your diet when you need more protein is a great way to recover from workouts faster and add more calories in the right kind of way.